Rack of Watering Cans
This picture was taken in front of a Berlin cemetery. Communal watering cans are being stolen all the time, so everyone brings their own and locks it to that rack with a bicycle lock.
A cemetery which could be well tended to using ten communal watering cans thus requires a hundred - and nobody benefits except the makers of watering cans and bicycle locks. It's stuff like this which makes me doubt the "sapiens" part in "homo sapiens".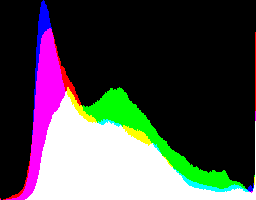 | | |
| --- | --- |
| Original size (w×h) | 2272×1704 (3.9Mpx 3:4) |
| ISO | 50 |
| Aperture | f/8.0 |
| Exposure Time | 1/25 s |
| Focal Length | 21.0 mm |
| Date Taken | 2003-08-21 14:19:01 +0200 |
| Camera Model | Canon PowerShot G2 |
| Lens | 7.0 - 21.0 mm |
| | |
| --- | --- |
| Creator | Hans Ulrich Niedermann |
| Copyright | © 2003 Hans Ulrich Niedermann |
| License | All rights reserved |